September 17, 2021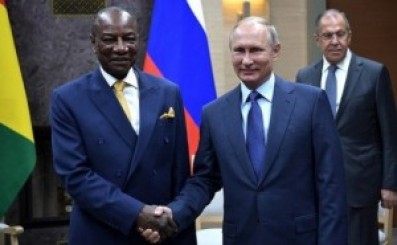 Image credit: Creative Commons, www. kremlin.ru via Wikimedia commons
In a recent Bloomberg radio podcast, Barry Ritholtz and I discuss the spy business and a wide range of geopolitical issues, focusing heavily on Russia's ongoing political strategy that includes global cyber and economic influence campaigns. Russia will work to incite or prevent instability in a region depending on its interests, and in the Bloomberg interview I share some opinions on how Putin operates and why. In this week's In Other News, I further explore how Russia, and in this case also China, meddles in the politics of other nations in a way that doesn't always end favorably for those involved.
Recent coup d'état in Guinea could challenge Russian and Chinese economic interests. China and Russia have been competing for the exploitation of Guinea's rich mineral reserves that include iron ore and bauxite, used to produce aluminum, but economic ventures in West Africa remain vulnerable to political instability and the recent coup in Guinea marks the third such takeover in the past six months, following similar events in Mali and Chad. On September 5, Guinean President Alpha Condé, who's received Russian support since he assumed power in 2010, was toppled in a coup d'état fronted by the young, charismatic Colonel Mamady Doumbouya. Condé had outraged the general populace when in 2019 he changed the Constitution so that he could continue to lead for a third term in 2020, but both the Chinese and Russians supported his extended rule. Russia has a longstanding economic and trade relationship with Guinea dating back to the Soviet era and has been substantially invested in bauxite mining operations and arms sales with Conakry, with the welcome side effect of challenging key western actors in the process. The Chinese, too, have trade deals with Guinea that date back 50 years, and in return Guinea has supported measures like China's Hong Kong national security law.
The recent coup, which temporarily shook the global aluminum market and caused prices of the metal to jump to a 10-year high, could affect Chinese and Russian local mining operations if the new leadership seeks to intervene in current practices. And given the coup's potentially negative impact on China and Russia, the United States has subsequently been accused of assisting Doumbouya, especially since US Special Forces were actively training the Guinean military to bolster its counterterrorism efforts at the time of the takeover. But the United States denies any involvement and the political upheaval in Guinea is part of broader regional frustration with ruling elites who consistently prioritize their own advancement over that of their people. Although the United States, like China and Russia, has denounced the coup, and the Economic Community of West African States (ECOWAS) appears to be taking a hard stance by sanctioning coup leaders and demanding civilian elections in six months, Doumbouya has likely been watching the success of nearby takeovers and recognizes that punitive measures are generally lifted quickly. While some Guineans are presently celebrating Condé's demise, the new Guinean leadership will prove an exception if it promotes human rights or institutes positive social change any better than its predecessor in the long run.
As Chilean elections approach, the issue of Chinese foreign investments could be divisive. Chile was the first country in South America to establish diplomatic relations with the PRC in 1970, and the well-established relationship between Chile and China was further bolstered in 2005 with the signing of a free trade agreement. But China wasn't making a significant investment in Chile until about five years ago when former Chilean President Michelle Bachelet made a substantial push for Chinese funding. The effort has proven successful, and according to InvestChile, a government agency focused on foreign investment in Chile, Chinese firms weathered the pandemic and are embarking on several new Chilean projects with an increasing focus on infrastructure investment. Further, Chinese firm Sinovac recently announced plans to invest $60m in Chile via the construction of a research and development center along with a vaccine manufacturing plant. But some Chilean politicians have stated that Chinese investments need to be viewed through the lens of national security, and others have questioned if recent purchases of major Chilean electricity companies could threaten the nation's authority over the industry. Chile's relationship with China has historically been supported by both the right and the left, but it's possible that as the Chilean presidential elections approach in November, the issue of regulation on foreign investment could become more contentious.